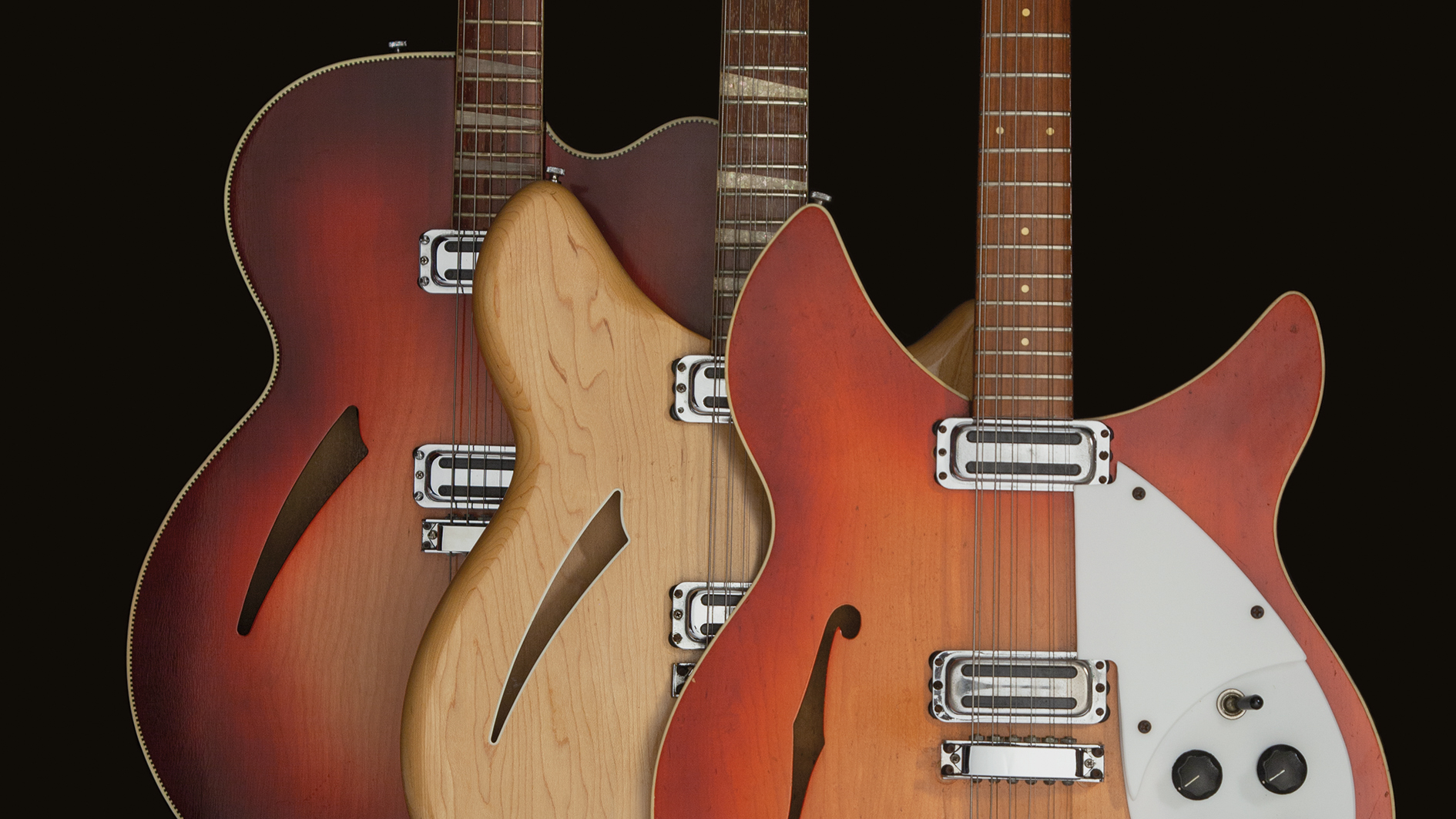 Available to p

re-orde

r now
'Rickenbacker Guitars – Out of the Frying Pan Into the Fireglo' is the highly anticipated follow up to Martin and Paul Kelly's 'Fender The Golden Age – 1946-1970'. Over 336 pages the book covers the history of one of the wolds most iconic guitar brands from their invention of the electric guitar in 1931 through to the present day.

The authors have travelled the world to bring together over 350 original instruments – including all 7 surviving Beatles owned Rickenbackers – photographing them beautifully for an all-encompassing study of this unique marque. New interviews with legendary Rickenbacker players including Roger McGuinn, Peter Buck, Susanna Hoffs, Johnny Marr, Mike Campbell, Geddy Lee, and Paul Weller, make this book the most comprehensive history of the brand to date and a must for all guitar enthusiasts.

Available as a soft back or a limited super deluxe edition, the book can be pre-ordered now and finished copies will ship from Wednesday 8th December (for the soft back) and Monday 13th December (for the super deluxe). The book won't be available in shops until some point in 2022 so the only place to buy copies now is via this site.
For more detailed information on each edition and it's contents, please view the products below.
Soft Back Edition
• Bound in a sturdy double layer laminated, color, French flap style cover.
• Containing over 350 beautifully photographed Rickenbacker instruments
• All 7 surviving Beatle's Rickenbackers have been shot especially for the book
• Plus guitars owned by Tom Petty, Roger McGuinn, Johnny Marr, Paul Weller and Mani Mounfield
• The authors were given unprecedented access to the Rickenbacker archives so readers can expect a wealth of previously unseen historical photographs and company literature. Extensive interviews with company CEO John Hall also shed new light on the Rickenbacker's fascinating story.
• The book chronicles George Beauchamp's invention of the electric guitar in 1931 and the pioneering lap steels, electro-acoustics and band instruments produced by Adolph Rickenbacher's company between 1932-1953.
• It explores in detail every model produced during the F.C. Hall era 1954-1984 and covers John Hall's important take over and the re-invention of the company during the 1980s up to the present day.
• The key Rickenbacker players are all included with chapters focusing specifically on John Lennon, George Harrison and Paul McCartney plus endorsees as diverse as Lemmy, Tom Petty, John Fogerty and Chris Squire. Brand new interviews with Roger McGuinn, Peter Buck, Susanna Hoffs, Johnny Marr, Mike Campbell, Geddy Lee, and Paul Weller offer further insight into the Rickenbacker brand.
• The book also contains the most detailed and comprehensive information on dating Rickenbacker instruments published to date.


Price £35 GBP
($48.00 USD) plus shipping
Super Deluxe Edition
• A limited numbered edition of just 800 copies.
• Including the 336 page book specially bound in a textured blue hard back cover with end papers signed and numbered by the authors.
• Each edition comes in a beautiful bespoke, embossed slip case that also includes:
• Unique to this set – a second 160 page book of Rickenbacker catalog reprints spanning 1933 -1969 that includes the mid 1960s literature produced by UK distributors Rose-Morris – impossibly rare artefacts reprinted in their entirety

for the very first time.
• An embossed card wallet containing 3 specially made posters unavailable outside of this set including:
An exact remake of a 1964 Rose-Morris shop poster (54cm x 34.5cm – 21 x 13 inches
A poster showing all 8 Beatles Rickenbackers seen more clearly than ever before – all seven surviving guitars owned and played by John, George and Paul plus a 1965 360/12 identical to the missing guitar that George Harrison was gifted on the bands 1965 US tour (57cm x 27 cm – 22 x 10 inches)
A third poster showing 6 of Paul Weller's famous 330 guitars used in The Jam (57cm x 27cm – 22 x 10 inches)
Price* £175 GBP
($240 USD) plus shipping
*

Please note this is a special 'early bird' offer price for the Super Deluxe Edition which will be increased to £200 GBP ($275 USD) following the books release.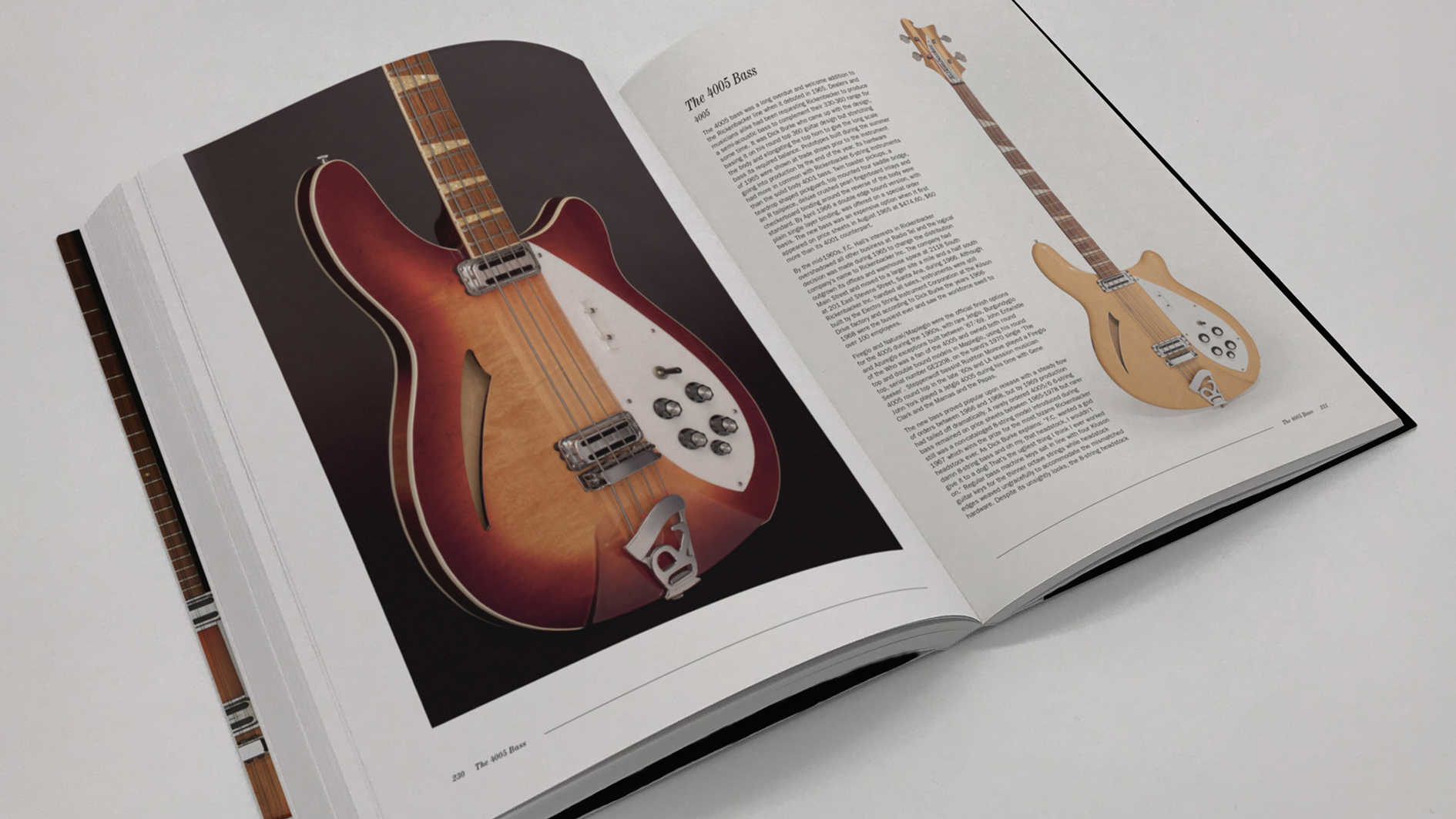 What the players say:
Roger McGuinn: "I have been reading and thoroughly enjoying your book! The attention to detail is amazing! I've been playing Rickenbacker guitars for over 50 years and had heard some of the history but learned so much more from Rickenbacker Guitars –  Out of the Frying Pan Into the Fireglo. Thanks for such a wonderful history of my favorite guitar!"

Susanna Hoffs: "There are few things more satisfying than the shimmer of an open chord played on a Rickenbacker through a Fender Deluxe Reverb amplifier. With Rickenbacker Guitars – Out of the Frying Pan Into the Fireglo, Martin and Paul have given us the definitive history of these magical instruments."

Geddy Lee: "In 1967, I watched the Beatles make history by playing 'All You Need Is Love' live on television via satellite, and the entire time I was transfixed on the rather odd looking piece of 4 stringed furniture Paul McCartney held in his mitts. Of course, I know now, that it was a Rickenbacker 4001S Bass, and I'd have to wait until 1973 before my dream of owning one like it could come to fruition.  As a favour to all lovers of musical instruments, Martin and Paul Kelly have combined art and information to create the definitive book about Rickenbacker in all its profound and quirky incarnations. It's a joy to the eyes and is a must have reference guide to this fascinating and historic musical brand." 

Johnny Marr: "Knowing Martin and Paul Kelly's perfectionism and attention to detail it's no surprise that this is the ultimate and complete story of all things Rickenbacker."
What the reviewers say: 
Tony Bacon / Reverb:  "I've written a couple of books about Rickenbacker myself, and I can honestly say, hand on heart, that this book is set to become the ultimate work on the company."